Spring Traditions with Housewright Construction, Inc.
Spring Traditions with Housewright Construction, Inc.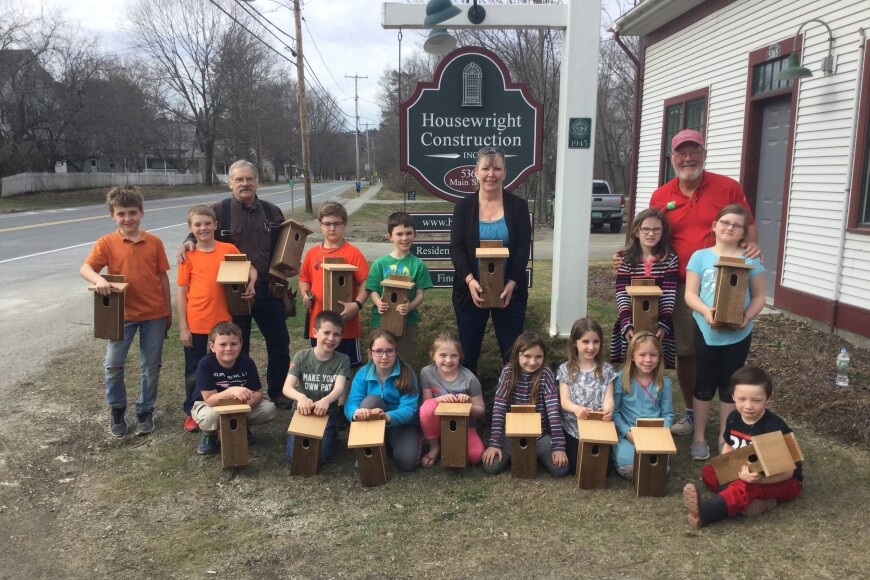 Spring rite is for the birds -
by Linda Buermeyer
Courtesy of the Journal Opinion
NEWBURY—About four years ago, a bluebird logo sparked an idea which has grown into a yearly tradition. The annual construction of bluebird houses is now anticipated by children of varying ages who participate in the afterschool programs at Newbury Elementary and Blue Mountain Union with Paul Jewett at the helm. Jewett, who lives in Newbury, has been coordinator for the afterschool program at Newbury for five or six years. This is his fourth year at Blue Mountain.
In a typical year, the average afterschool program participation numbers are 30 for NES and in the low 20s for BMU. This year, approximately 13 to 15 children participated from each school. Jewett hopes that next year, the afterschool population will return to normal. "Slowly, but surely, the numbers are going up," he said. No bluebird houses were built last year because of COVID-19 and this year all construction took place outside. Original plans for the birdhouses came from NES teacher Jeff Goodell who was looking for a project for his 5th and 6th grade class. He approached Craig Hervey, former owner of Housewright Construction in Newbury, and the youngsters and Hervey built bluebird houses. Both Hervey and present Housewright owner Jeff Page donate materials for the birdhouses. "These men have gone out of their way to make this happen, donating all the wood which is cedar. They won't take any compensation," Jewett said in a telephone interview. For safety's sake and ease of assembly for the children, Hervey precut, made a few jigs to make the parts better fit together, predrilled and labeled them. Although they typically use eastern white cedar for the birdhouses, this year they used western red cedar.
Since the beginning, the children have assembled nearly 100 houses which now grace their yards scattered across area towns. Before he bought Housewright in January 2020, Page was involved with the birdhouse project as an employee. "Kids would walk up from the school. At first, it was like herding cats. We could see they needed more instruction so next year, parts were color coded, little hammers instead of big ones were used," Page said. Improving the assembly procedure has allowed better construction as the children have no concept on how to build anything. "The kids had a blast. The procedure wasn't perfect but the birdhouses got built and all the kids were happy," Page said.
This year, construction of 30 birdhouses took place at the school. Afterwards, they all walked to Housewright Construction for a photo opportunity. Jewett, Hervey, and Page are discussing the possibility of holding a class on "tool awareness" so the children can learn how each tool is used. "Paul has been very energetic in trying to bring things of interest to the kids," Hervey said. Hervey spoke with enthusiasm on the birdhouse building, "It exposes kids to putting something together with an outcome." According to Hervey, it is all worth it when the youngsters have something they can put in their yards and someone says, "Hey Craig, the bluebird house has a bird in it!" Hervey knows that the building experience plants seeds for success.
"All birdhouses have different problems. Something went wrong. The cedar may have split and the kid thinks it's ruined," he said, "The gift with assembling the houses is not that you had a problem but that you recovered." Experiencing disappointment and finding a solution is a tool that may help later in life. "We need to encourage people to be hands-on and solve problems," Hervey said. He feels this was an important aspect of the business he started 37 years ago and he is pleased that Page, as the new owner, is embracing the same ideal.
Email: lbuermeyer@jonews.com.