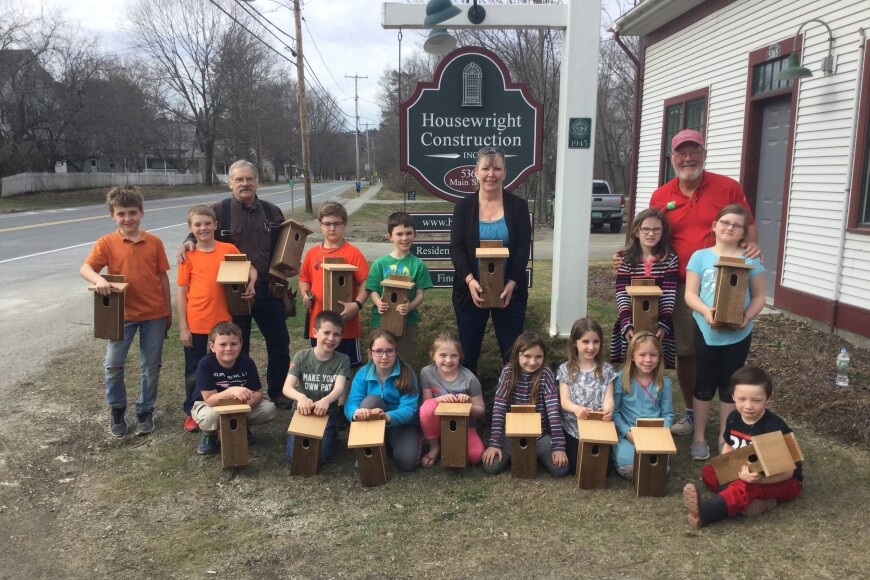 Late last fall, Newbury Elementary School teacher Jeff Goodell approached Housewright for assistance with a project that combined educational and community service opportunities for his 5th/6th grade class. His class, aka "The Otters," was studying the Eastern Bluebird. Learning that this bird's population struggles with a lack of suitable nesting spaces, the students were curious about ways they could provide assistance within Newbury. They decided to build bluebird houses. After researching topics such as habitat, nesting needs, range, and breeding habits, the Otters approached the local community asking for volunteers to "house" nesting boxes. They located six suitable habitat sites within walking distance of the school and measured each to determine how many boxes could be on a property. They concluded they would need 25 boxes – and that's where Housewright could help them.
During the winter, Housewright hosted two groups of Otters in our woodworking shop where each student built a nesting box with guidance from Craig Hervey and Jeff Page. Housewright donated the building materials and two members of our staff (Wayne Eathorne and Mark Eathorne) pre-cut, pre-drilled and numbered the pieces for easy assembly. The students did a great job following instructions and they were rightfully proud of their finished boxes.
The students mounted the boxes in their predetermined locations so that they would be ready for the bluebirds in the spring. With the warmer weather now here, the Otters are using the monitoring guides that they made to keep track of nesting activity.
Jeff Goodell was extremely thankful when he told us, "You and your crew really rolled out the red carpet. It so important to get these kids connected, especially in their community. They got a great taste of community involvement with this building session."
In April, the birdhouse fun continued with a different group of students. Paul Jewett brought 20 students from the Newbury After School Program to Housewright for their turn to learn how to build birdhouses. Housewright donated another set of materials and crew member Steve Emerson prepared the materials for assembly. This time Craig and Jeff were joined by a special guest assistant teacher. Aiden Hervey, member of the Otter class and grandson of Craig and Lisa Hervey, shared his new building skills with the group. In addition to their completed birdhouse, each student received a small tape measure from Housewright Construction Inc. for help with any future projects.