Meet Our Latest 'Future Leaders in Construction' Graduate!
Meet Our Latest 'Future Leaders in Construction' Graduate!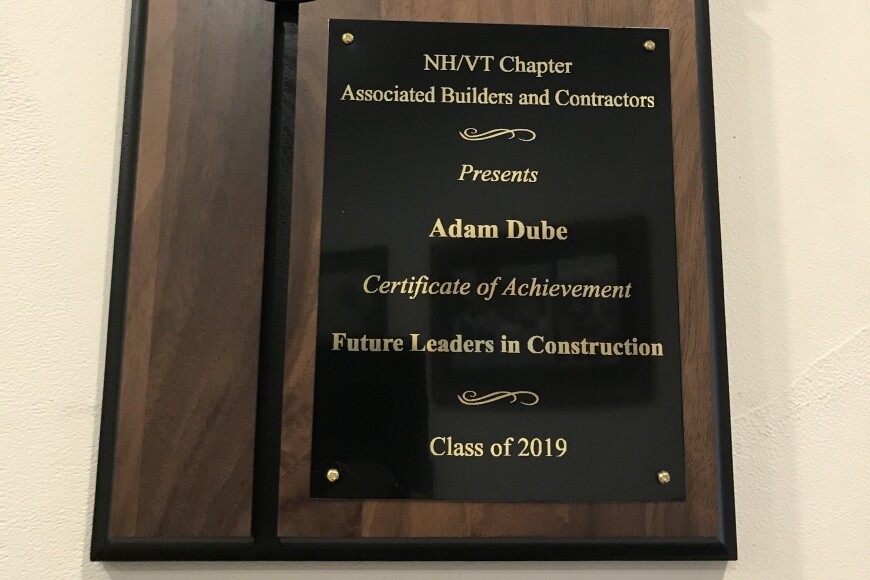 Congratulations to Lead Carpenter Adam Dube, our latest graduate of the Future Leaders in Construction (FLiC) program! Adam is a U.S. Marine who specialized in Aircraft Rescue and Firefighting. He also has 10 years of construction experience. We were so impressed when we hired him two years ago, and we promoted him to lead carpenter in record time. In addition to being a stand-up guy, Adam brings a great sense of humor to his work — something we all appreciate!
We knew Adam would excel in the FLiC program, and we're very proud of his accomplishment.
What Is FLiC, Anyway?
Future Leaders in Construction is an eight-month leadership program offered by the New Hampshire and Vermont Chapter of Associated Builders and Contractors, Inc. — or ABC, for short. This program is offered in partnership with the Vermont Technical College Office of Continuing Education & Workforce Development. It brings together construction professionals from all walks of life to challenge them to solve problems, think critically, and make connections across disciplines. Just like swinging a hammer or making an accurate estimate, leadership is a skill that must be practiced, and this program offers hands-on opportunities to do so in a meaningful way.
Why We Believe in Lifelong Learning
Adam is Housewright Construction's fifth FLiC graduate. Our Foreman and Master Carpenter Steve Emerson has also enrolled in the program, so he's on track to graduate in July 2020.
So why do we send so many members of our team back to school?
At the end of the day, it's all about providing a top-notch experience to our clients. We want to empower every HWC employee with the latest industry knowledge and the skills they need to make smart decisions on the jobsite. Building better employees means that everyone you encounter — from our office manager to our finish carpenter — is able to understand your needs and take the right steps to make your vision a reality.