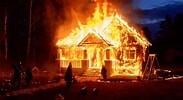 Housewright Construction, Inc reminds and encourages our clients, family, and friends to check their Homeowner insurance coverages annually. In the current building market and construction industry, prices have skyrocketed, and many people are likely underinsured to rebuild their homes if necessary. We want our people to be prepared for misfortune if the need arises.
We have a family member who has just recently suffered a complete loss of their family barn. They found that they were unexpectedly underinsured when they contacted their insurance company. It will be a costly out-of-pocket expense due to gaps in their Property Insurance coverages.
Do you know what might happen if or when a catastrophe happens to your family and home?
Do you have a replacement or cash value policy?
Do you have adequate coverage, or is your insurance policy riddled with exclusions and uncovered perils?
Do you know what your belongings, home, and property would cost to replace?
Lastly, what sort of loss of use coverage should you have if you were forced from your home?
If you must relocate your family until your home is rebuilt, have you considered what this might mean? Most builders book months and, in the current market, years out. There is also a serious lack of available housing throughout the nation. Will there be somewhere to rent, or how far away will you have to go to find available housing? Have you asked yourself and your insurance agent, "Is my loss of use insurance coverage adequate to cover my family for hotel room(s) for a year," if necessary?
We cannot answer these questions, but we strongly urge our clients, family, and friends to ask their insurance agents the questions above. We all dread the review of our insurance contracts, but it is vitally important not to be caught unprepared during chaotic moments in our lives.
While in a perfect world, an insurance agent would always be working in your best interest, but in all honestly, they frequently must compete with other agents for business. The best/lowest price doesn't always equal best interest and value. Be your own self-advocate and read your policies carefully. A home insurance policy is a legal contract. It is written so that your rights and responsibilities and those of the insurance company are clearly stated. Keep your policy in a safe place and know the name of your insurer.
We hope that our small blog encourages everyone to review their insurance.