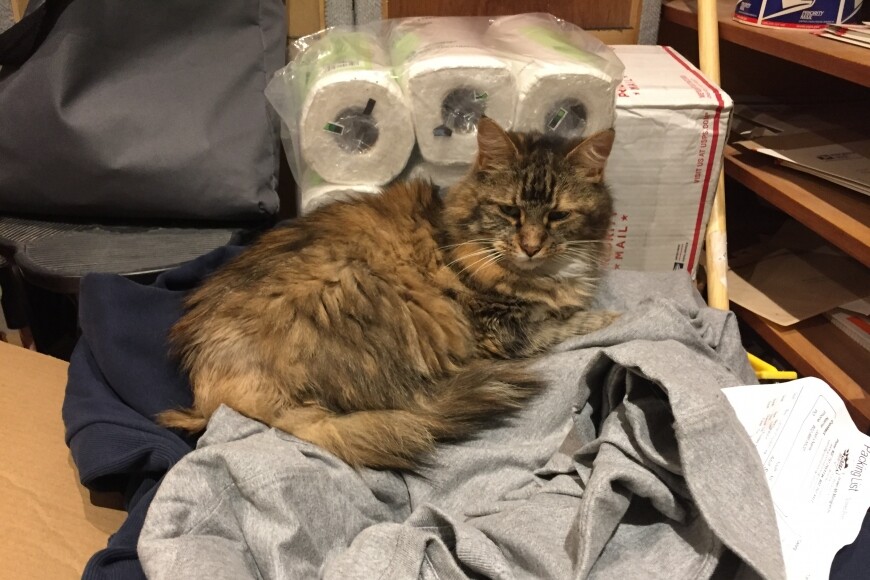 Our sweet Terra "Ninja BooBoo" Kitty peacefully crossed the Rainbow Bridge at our office last Friday, after 16 years of purring, snuggling, and creative mouse dissections. She was a master connoisseur of cat nip, an avid fan of any empty UPS or Fed Ex delivery box and an enthusiastic paper shredder. She never discovered a sweatshirt, a coat or discarded packing material that she couldn't instantly turn into a comfortable bed.
In 2003 Craig Hervey ventured into the hinterlands of Maine in search of that most mystical creature – a Maine Coon Cat – to call our Office Kitty. He returned with a polydactyl kitten whose big feet, trusting eyes and quietly devilish personality soon stole our hearts. Terra was our office greeter, standing ever ready to cry hello at visitors and staff alike. During meetings she was always super helpful, laying on freshly printed house plans or delivering a dose of catnip on the conference table. Terra clearly preferred to be an "only" cat surrounded by "her" humans. Attempts to provide feline companions were met with disdain – or worse. At the end of Terra's very happy life, she was surrounded by the humans who loved her, with no other kitties around to distract us.
Terra will be remembered for her quick-witted meows, her extra-supersized paws, and her consistent obsession with intentionally pursuing cat-averse humans and loving them anyway; but it is her sweet gentleness and loving spirit that we will miss the most. We love her and will keep her memories in our hearts. She was a darn good cat.
June 10, 2003 – June 14, 2019