2019 Prouty - Housewright Construction Team Wild Riders
2019 Prouty - Housewright Construction Team Wild Riders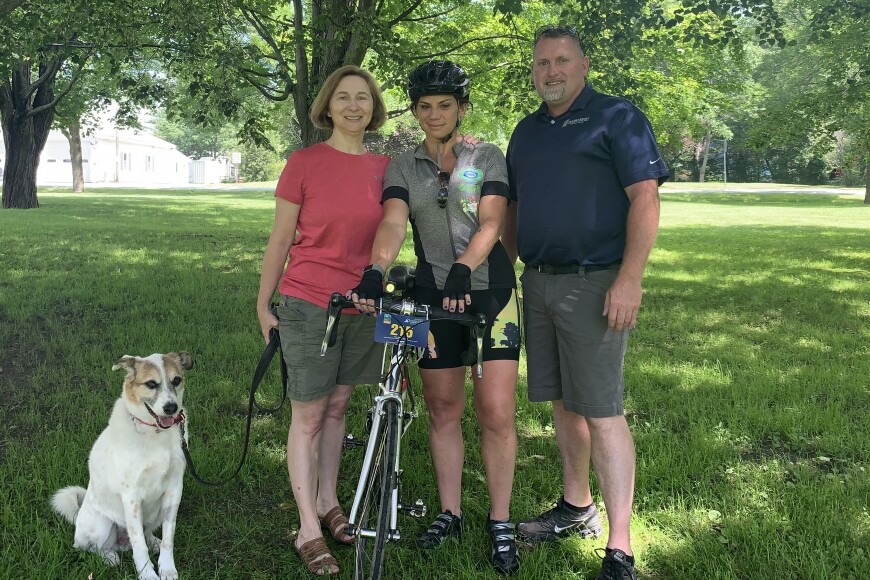 Team Wild Rider Jodi Ovens with Lisa Hervey and Jeff Page of Housewright Construction at the Newbury VT Prouty SAG stop.
The Craig Hervey Housewright Construction Team Wild Riders cycled in the 38th Annual Prouty fundraising event on Friday, July 12th and Saturday, July 13th. The Prouty is a two-day athletic event that raises funds to benefit the Dartmouth-Hitchcock Norris Cotton Cancer Center (NCCC), one of 49 National Cancer Institute-designated Comprehensive Cancer Centers in the country, and the only one in northern New England. Nearly 90 cents of every dollar raised stays at NCCC to fund cancer research seeking better ways to diagnose, treat, and prevent cancer. Research conducted here makes a difference in the lives of cancer patients all over the world. Money raised also funds local patient supportive services that help ease the way for patients and families struggling with cancer.
This year's Team Wild Riders – Housewright employee Jodi Ovens and fellow cyclist, Nick Schmid – participated in the Prouty Ulti-Mate, in which bikers rode for a total of 200 miles through the Vermont and New Hampshire countryside. 2019 marked the 11th year that the Wild Riders have taken part in the Prouty and this year they raised a total of $5,775 for NCCC. When asked why this ride is so important to her, Ovens said, "You never know whose life in the Upper Valley might be improved because of the funds that we all raise together for this event. Whether the funds are used to create new life saving treatments or whether they are used to offset financial burdens for local families, then HooYah!! Two days of riding, saddle soreness and a goofy bike tan are well worth it!"
Team Wild Riders would like to thank the following local businesses for their generous donations: Brown's Masonry of Perkinsville, VT; Emily Herzig Floral Consulting, LLC of Littleton, NH; Green Mountain Monogram of Wells River, VT; Hill & Thompson, PC, of Manchester Center, VT; Housewright Construction, Inc. of Newbury, VT; Kingdom Kitchen Design, LLC of St. Johnsbury Center, VT; Mount Cleveland Construction, LLC of Bethlehem, NH; NFP Insurance of St. Johnsbury, VT; Newbury Village Store of Newbury, VT; Oakes Brothers of Bradford, VT; and Valley Floors of Bradford, VT.